Providing all inclusive Motorcycle tours in The Philippines is our passion and your adventure!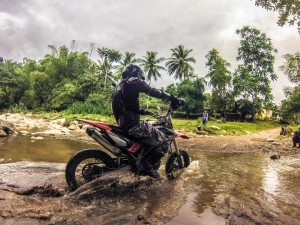 Motorcycle tours in The Philippines using Supermotard, Scooter and Enduro motorcycles are our specialty on an all inclusive adventure holiday in Cebu, Bohol and Negros. We carefully built this package by:
Listening

to customer requests, and suggestions

Responding

and implementing action tours accordingly

Providing

what we promise with no fancy marketing tools
We call this "The Ronson Approach" straight forward and easy to understand.Try us out, we return emails too! 
How did the motorcycle tours start?
We originated from England before moving here in Cebu,The Philippines and worked with, and alongside other companies doing motorcycle tours, large motorcycle organisations providing superbikes and not forgetting riding and owning many motorcycles ourselves from Supermotards, Sportsbikes and Cruisers. I know you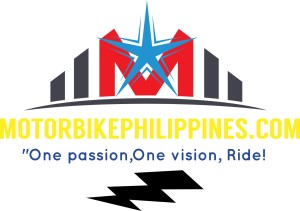 understand what I mean here! In those days, I found it really hard making my girlfriend and in time wife understand this passion we have and share with  "Like Minded Bike People" until one day on a all inclusive motorcycle tours holiday bought online from a website in Greece!
We had previously searched online for an all inclusive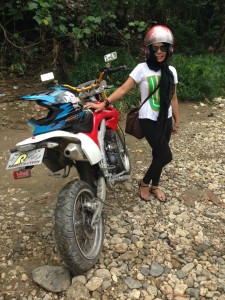 motorcycle tour and the destination was Greece. We read the glossy website reviews and excitedly booked that dream vacation we had worked so hard for. We arrived at the Hotel to be meet by a Tour Representative that really didn't give a toss, was presented a motorcycle that didn't work, was told that the weeks three motorcycle tours had been cancelled due to late arrivals. She then escorted us to a room that had no resemblance to the glossy reviews and in a Hotel that looked like a war zone. Maybe the beaches would be our saving grace we thought, but yes, you guessed right, they weren't. What a surprise!
At this stage we knew it was going to get worse. Nothing was remotely similar to what was explained,  or saw online. We knew the holiday was doomed, or was it…..We needed transport and in this crippling heat a car would be useless, so I suggested another motorcycle tours company.I awaited the answer……. She reluctantly agreed, so explained about the freedom, convenience of not wanting public transport and the fact we could visit places of interest and different beaches too…… wow, she was hooked and the holiday proved a success, and more to the point she loved the bike, happy days!
Motorcycle tours began with one tour, now we have three because of demand
We were off and then moved to The Philippines and that's how Motorcycle tours and Motorbike Philippines started. We set up the company with the understanding that future customers would not experience this frustration, false promises by operators and that we would actually deliver as a company what you read and see in our website including returning emails.Try us out on the contact page to find out!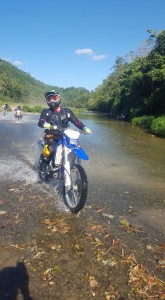 "The Ronson Approach" is our key driver here. We give no false
promises, nor use fancy tools to attract or mislead and we do deliver what you see, including easy to read explanations in the T&C section. Feel free to read this and visit the frequently asked questions page too. We provide all inclusive motorcycle tours on supermotards, scooters, and full enduro bikes experiencing and including all the best roads, and activities with no hidden charges. Imagine all the best parts of a holiday rolled into one! Getting involved on motorcycle tours requires the right equipment for safety. Be prepared and visit your local dealer. If you are in the Bristol area try visiting Fowlers Motorcycles for the widest selection of branded and quality motorcycle accessories
Just follow the guidelines by checking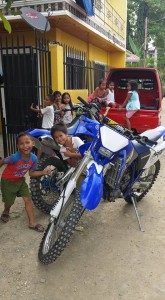 out our tour overview to get a better feel of all the motorcycle tours, or visit individual pages within our site, like the scooter tours for the less experienced, Supermotard tours for the more experienced and last but not least the Enduro tours. These routes are may being updated so I will inform you when they are ready! This will be a Dirt Bike Heaven experience, but be prepared to get dirty OK! 
We promise value for money and adventure on a fun packed  all inclusive motorcycle tours for experienced, less experienced, groups and individual
Asia has some of the best roads, and scenic adventures and not forgetting
Thailand. Broaden your country experience next time with enduro tours or road tours with another experienced company called Enduro Wild and Motorbike Thailand. One of the best companies with vast experience. Enjoy!
Looking forward to seeing you soon 🙂
Irene,  and the staff at  Motorbike Philippines.com