Enduro Tours Asia are always the best. Motorbike Philippines.com is always happy to design custom enduro tours in Asia, just ask!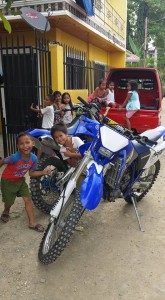 It is important when booking different motorbike holidays in Asia to get the best.
We want you to experience the best adventures on enduro tours in Asia, with the best bikes and competitive prices.
Motorbikephilippines.com is regarded as a premier bike company giving the best enduro tours in Asia and we are very glad to promote enduro tours in Dubai for those who want to experience desert tours. Please find the links below for enduro tours in Dubai, Cambodia, Thailand, and last but not least Vietnam. We have been on all these tours, they are all well managed, professional and as we call it here "Dirt Bike Heaven!"
ROOKIE  ENDURO TOURS ASIA FOR THE BEGINNERS  IN THE PHILIPPINES
These are becoming by far very popular as more road riders are experiencing enduro tours  Asia with training, and selective routes for safety. We can, once confidence has been gained make them harder but safety and customer enjoyment is paramount here!
PRICES FOR ROOKIE ENDURO TOURS ASIA IN THE PHILIPPINES
Prices start from as little as 6,500 Philippines peso for a two day introductory course. All is inclusive, food, accommodation, bike, English speaking tour guides and instructors, back up truck, fuel, and food. If you feel you need more time just ask.
DIRT SURF AND TURF TOURS WITH ENDURO TOURS ASIA
These are a 7 day enduro tours. We limit these tours so we can spend as much time with you, it also is fully inclusive and includes many attractions on route like the world famous whale sharks in Oslob You will be swimming with these magnificent creatures.
ITINERARY
Day one. Bike hand over and company talk for safety, delivery and hand over of bikes. Yamaha wr 250 f and then a gently ride through and up the mountain, fantastic views. You will understand why enduro tours in Asia and The Philippines is regarded the best!…We will then stay at Danasan Mountain where you can either enjoy the swimming pools, or try three activities free of charge. Wake board riding, zip lines, quad riding, waterfalls, caving. Or join us on some other trails here, your choice. The evening will be a night with a camp fire, beers, before retreating to bed.
Day two. This will be a 9 am start where we will ride through the trails visiting the waterfalls for some fun, then proceed down the mountain passes and doing 4 river crossings, then through some traditional villages to Balamban. That day will be a 70 km ride. Overnight stay here.
Day three. 6 am start and up the Trans central highway mountain before turning off road across the mountain peaks to reach Oslob. Overnight here by the beach, evening meal, relax before the following day.
Day 4. Quick ride to the world famous whale shark result. Swimming with the sharks, then a quick 15 min boat trip to the Island with the most beautiful beaches one can imagine, beach food lunch. We will return at 1 pm to Cebu then board the ferries to Negros. Overnight in Negros.
Day 5. Early start as we trail to the volcanoes, some trail riding here before we overnight at the mountain hideaway.
Day 6. Ferries to Toledo, then some trails around this area and back up the other side of the mountain meeting local villagers and having photos. At he top of the mountain there are some great small track trails to be done with views that can only be described as "Heavenly" overnight here, evening meal.
Day 7. YOU DECIDE. But we finish the tour at 4pm this day. You are very welcome to join us for some fun in Cebu City on that day once the bikes are given back. With all out tours we do do the airport transfers back to the airport for flights. This is free, so don't worry.
FOR ALL OTHER INQUIRES PLEASE ADD US ON SKYPE: motorbikephilippines or click here for contact us

From all here, we look forward to meeting you soon. Below are some links to other enduro and dirt bike companies that we recommend in Asia and Dubai.
DUBAI http://www.justgasit.net/
THAILAND  http://www.motorbikethailand.com/